1936-1937 Elie Borgrave travelled all over Europe. In Paris, at the "Jeu de Paume", he could have seen the exhibition "The Contemporary Spanish Art" where Juan Gris presented works. At the "Petit Palais", "the Origin and Development of International Independant Art" and "The masters of Independant Art" presented the works of modern painters as Georges Braque, Juan Gris, Matisse etc…
Discovering Georges Braque and Juan Gris works, he felt a very great artistic and emotional shock that will determine his life as an artist and a painter.
1945 "Elderen" Oil pastel 39 x 49 cm
During the second world war, he was in the Wales and, self-taught, learnt painting and drawing techniques and filled many sketchbooks. From a social viewpoint, the artist's career did not involve his membership in any established group. He preferred the silence of his brushes and the privacy of his notebooks to taking up positions formulated in a manifesto.  His artistic praxis kept the political stances of avant-garde groups at a distance as much as it removed itself from the world onward march.
"3.02.1945" Elderen Pencil lead 27,8 x 38,5 cm Private collection, Belgium
In the thirtie's, Elie Borgrave was more than 30 years old.
After a chilhood in England during the first world war, and in Belgium where he was graduated in Literature and Philosophy at St Louis University of Brussels, he travelled all over Europe. Borgrave was heir to that phenomenon which little by little, this social elite abandoned its traditional involvement in politics, diplomacy and army and preferred an activity chosen for its excellence : art and poetry. Poetry and painting were places of excellence which enabled the élites to cloak themselves in grandeur, even if, in Borgrave's case, this choice was a difficult one tu persuade his father to accept. Erudite and cultivated, Borgrave was thoroughly informed about history, ancient and modern, of painting.
"26.21945" Elderen Pencil lead 27,8 x 38,5 cm Private collection, Belgium
"24.3.45"Pencil lead 27,8 x 38,5 cm Private collection, Belgium
1946, Robert and Sonia Delaunay created the first edition of " Salon des Réalités Nouvelles " to promote abstract art. This fair put together all "inobjective" artists "creating the form to express better our Modern Reality and "Réalités Nouvelles" along Delaunays's words. Bram Van Velde, Maria-Elena Vieira da Silva, Sophie Taeuber-Arp, Jean Arp etc.. participated to this event.
1949 Elderen Oil pastel 40 x 33 cm
Borgrave made his entry into the Art world in 1946 when he exhibited his work, for the first time, in a Belgian Gallery which has now been forgotten about, but which acted as a springboard for young Belgian artists turning towards abstraction : the Louis Manteau Gallery. His early paintings inspired by analytical Cubism, were clearly independant from the Flemish Expressionism around Permeke neither the Surrealism of Magritte, nor the CoBrA movement. He decided to keep on the sidelines of collective organizations.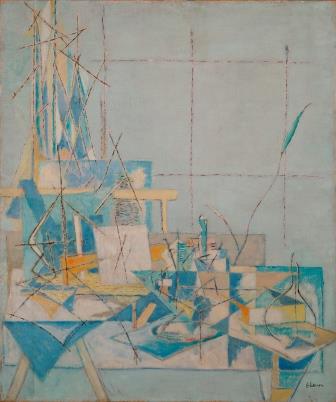 1949  Elderen Oil on canvas 92 x 77 cm 
This was an approach which Borgrave had identified in the work of Klee and Kandinsky.The distant memory of the objects which were still perceptible in the paintings of the 1940's ended up by vanishing.
1951 Elderen Oil on canvas 77 x 92 cm (Stonington port?)
1948 lower left signed Elderen, oil on canvas 82 x 95 cm
In 1948, Borgrave left Belgium for the United States. His mother was american native and the american situation was more open for him. The artist passed through New-York before settling in the port of Stonington, in Connecticut, 100 miles north of New-York. In 1949, he took part in group shows held in art centers in several eastern american cities.
It shoud be said that Borgrave enjoyed the backing, from 1950 on, of the German art dealer Jsrael Bert Neumann, who had specialized in the promotion of Expressionism. Borgrave's works painted in the mid-1940s until 1955 were based on a re-interpretation of the analytical phase of Cubism. It's a deconstruction of reality in which each object was reduced to a set of flat geometric surfaces and it acted the invention of a new language of abstraction.
1949  Elderen Oil on canvas 80,5 x 75,5 cm 
1948 Lower left signed Elderen, Oil on panel 32 x 41 cm
It was these principles of visual construction explored in the later half of the 1940s that Borgrave applied to devise his paintings. This creative process suggested that, the way leading to abstraction was that of an inner, psychic metamorphosis of the visible world, whose boundaries had been pushed back. For him, painting represented a poetic broadening of reality.